To kick off the new 2023-2024 school year, over 100 backpacks will be handed out to Frost Elementary families in need. The backpacks will be filled with grade appropriate and name brand quality school supplies, head phones, ear buds and colorful sleeping mats for the pre-k students.
In an effort to reduce teacher out of pocket expenses, educator grade level groups, specials and counselors will receive classroom and extra student supplies for the coming school year.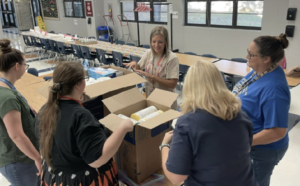 Your donations make a direct impact!
As a GISD named business partner with Frost Elementary, GAJF will continue their support through financial gifts and volunteer hours. Activities we will fund or assist in the coming year will include; teacher appreciation events, book fairs, picture day, health screening and other school functions. Our goal is to provide assistance to all Frost Elementary students, teachers and administration in their goal for education excellence.